LIT Summer Academy 2018 final ceremony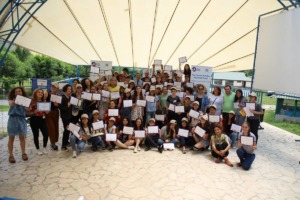 IT Summer Academy 2018 organized by ԳՈՒՄ ՀԿ / P&T NGO with the support of the Peace Corps Armenia came to its logical end on July 20. US Ambassador Richard Mills, Peace Corps Armenia Country Director Sonny Luu and Executive Director of Partnership and Teaching NGO Artashes Torozyan were present at the closing ceremony.They congratulated the participants and encouraged them to continue to love poetry and to share the knowledge gained through the Summer School with friends and develop English as an essential part of individual development.
LIT Summer Academy took place thanks to the enthusiasm and hard work of many dedicated people. ''Partnershep and Teaching'' NGO expresses its profound gratitude to all people and organizations for their invaluable and productive investment through the creation of a common educational platform for our younger generation's education and capacity building, bringing together 60 talented students from the 7th to the 12th grades.