Visit of the Prime Minister of Armenia Nikol Pashinyan's wife, Anna Hakobyan to  LIT Summer Academy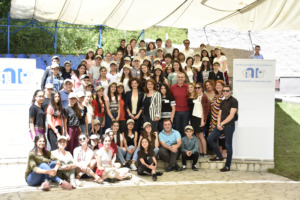 On July 18, 2018, the participants of LIT Summer Academy, organized by Partnership and Teaching NGO, were hosted by Mrs. Anna Hakobyan, wife of the prime minister of Armenia, Nikol Pashinyan.
Executive Director of Partnership and Training NGO Artashes Torozyan welcomed the honorary guest, highlighted the visit of the Prime Minister's spouse and participation in the Summer Academy, emphasizing the involvement of all stakeholders in the education and capacity building of the younger generation as well as the combination of efforts as a guarantee of success.
During the visit, Mrs. Hakobyan got acquainted with the summer academy curriculum, teaching methodology, followed by group exercises, listening to children on different topics in English.
In the second part of the visit, the participants of the Summer Academy had the opportunity to address the issues of concern to the RA Prime Minister's spouse. During the discussion, the participants expressed great enthusiasm and enthusiasm about issues related to the educational system, youth employment, professional advancement and many other spheres, where Mrs. Hakobyan touched upon all-round issues, which were thorough and comprehensive. In her final speech, Anna Hakobyan highly assessed the readiness of the children and underlined the importance of continuing the democratic reforms launched in Armenia and the necessity of participation and involvement of our promising and talented young people in ensuring their effectiveness.
LIT Summer Academy has staretd On July 15, mobilizing 60 students from 7 to 12 classes in one general educational platform. The Summer Academy methodology is based on innovative approaches, combining many educational, musical, sporting, cultural events and activities. The Summer School will summarize its series of events on July 20, hosting numerous local and international organizations.